It is common for women to feel dissatisfied with their breast size or unhappy with their overall physique. Breast augmentation can not only enlarge the breasts, but also offer a boost in self-confidence. Dr. Brad M. Gandolfi is a double board-certified plastic surgeon who brings an artistic eye to each breast augmentation case and overall balance to women's bodies.
---
The Benefits of Getting a Breast Augmentation
Some of the primary benefits of breast augmentation include:
Increased cup size for women with smaller or undersized breasts
A more proportional physique with harmonious curves
Enhanced size and shape when combined with a breast lift
Increased cleavage and symmetry, especially if combined with fat transfers
WATCH SOPHIA'S STORY
The procedure has changed my self confidence tremendously. When I wear a bikini I feel confident, I feel very empowered.
Am I a Good Candidate to Receive a Breast Augmentation?
A Breast Augmentation is Ideal For
The best candidates for breast augmentation are women who are simply dissatisfied with the size of their breasts. Often, they are moms who lost breast volume following pregnancy and breastfeeding, or women whose breasts were diminished due to extensive weight loss. Ideal candidates are in good overall health and do not smoke.
It is Not So Great For
Breast augmentation may not be the best option for women who have underlying health conditions, smoke, or are more concerned with the shape of their breasts than with the size. In addition, women with a history of autoimmune disease or a propensity for autoimmune disease may not be candidates for implant-based augmentation.
How Old Do I Have to Be to Get a Breast Augmentation?
When done for cosmetic reasons, you are a candidate for a saline implant breast augmentation at 18 and a silicone implant breast augmentation at 22 years of age.
Breast Augmentation Results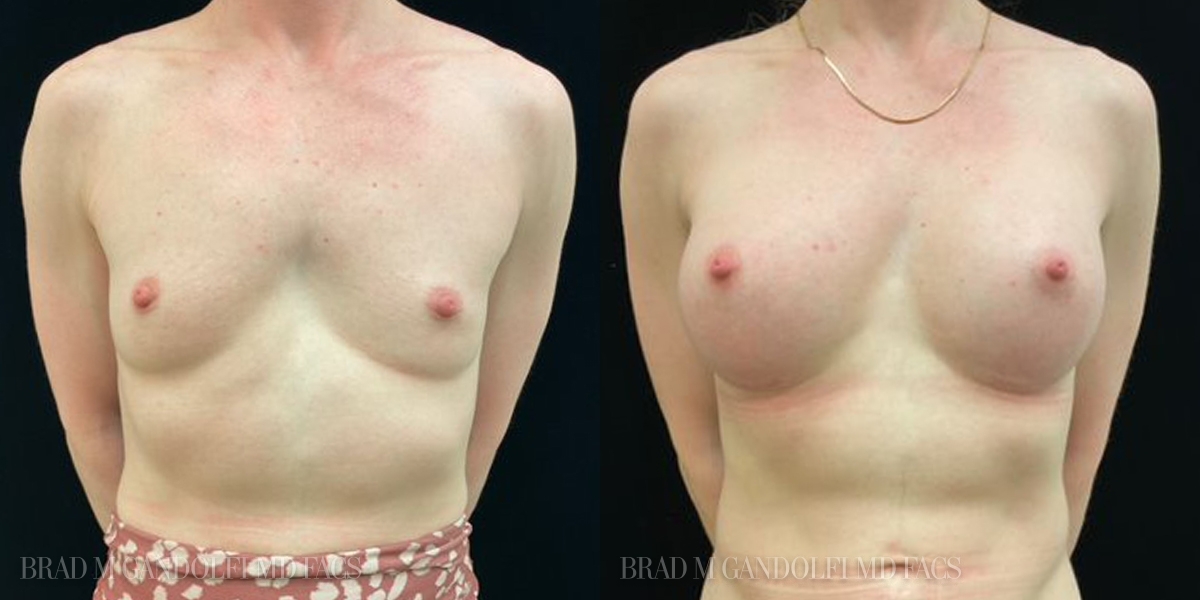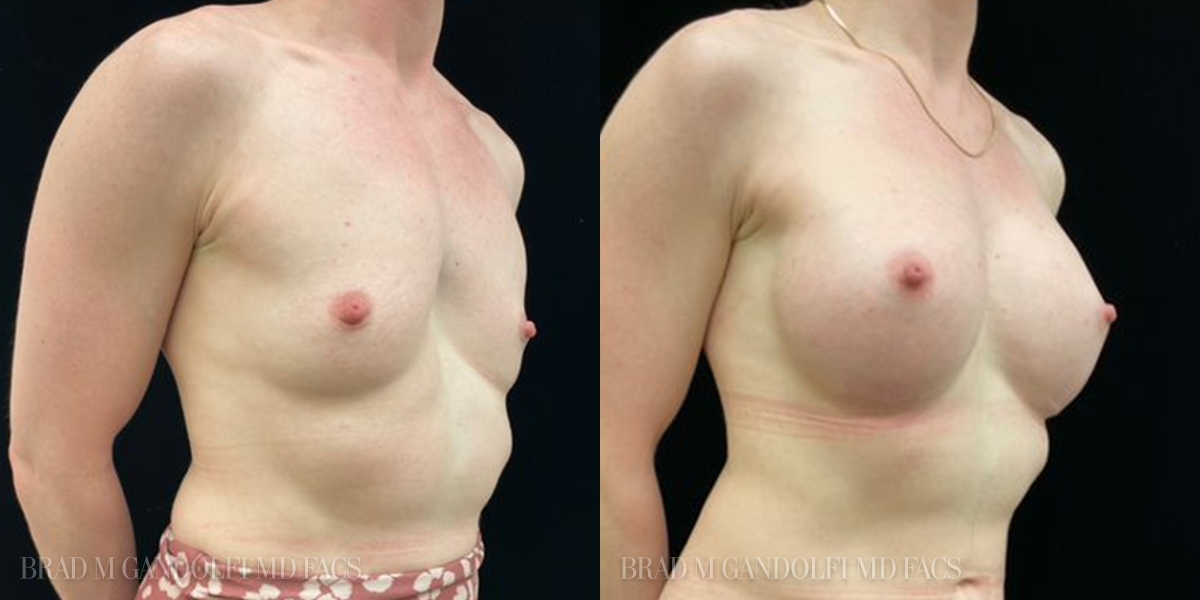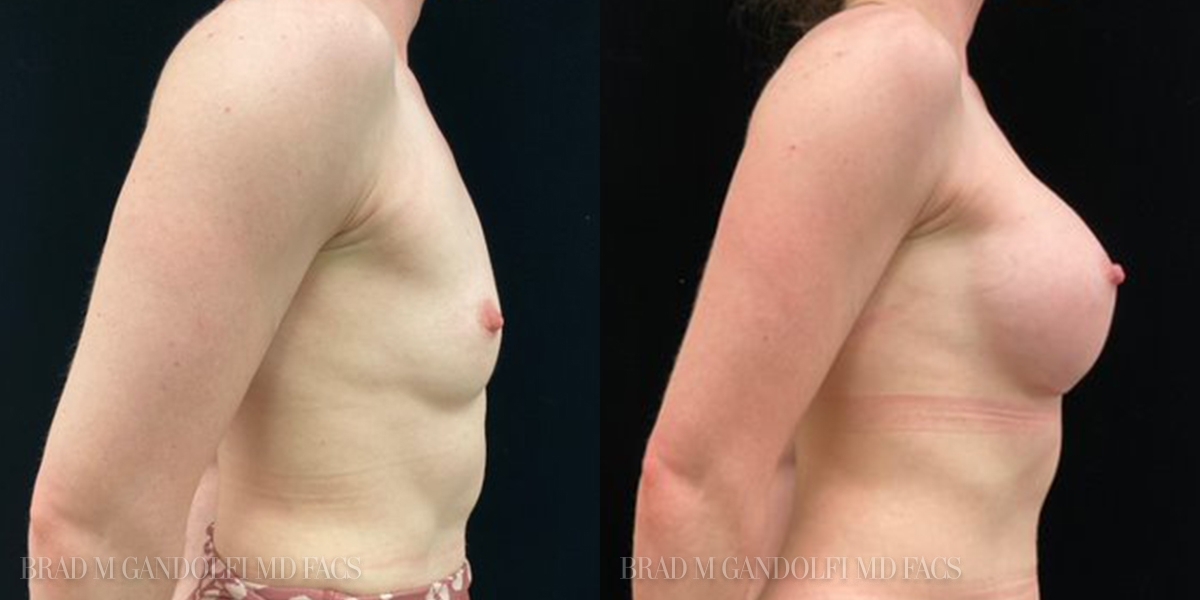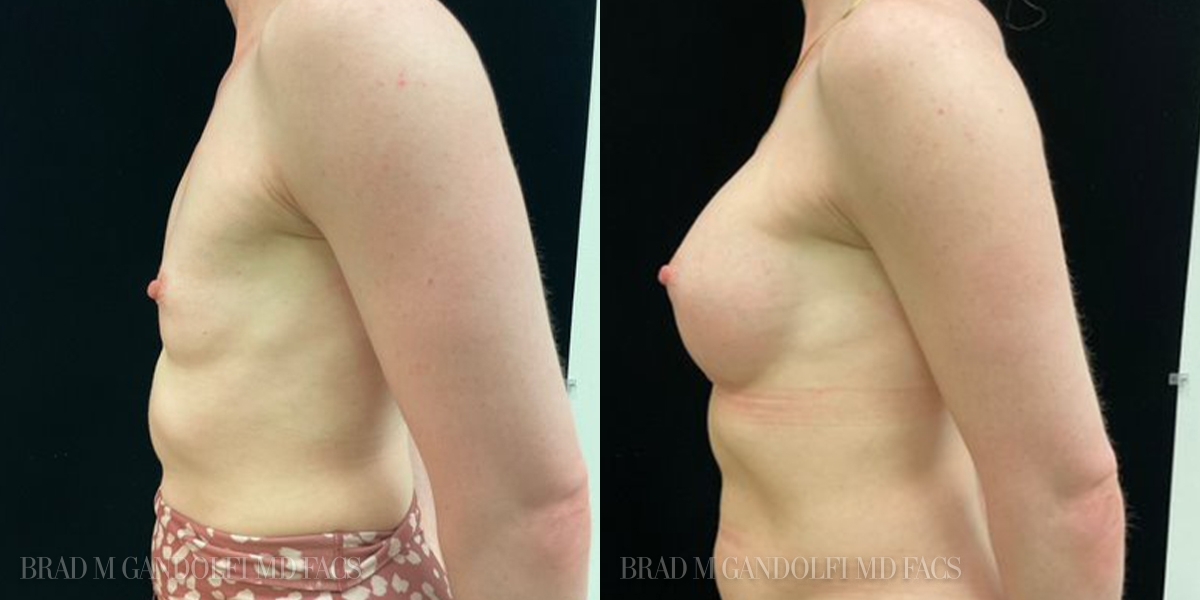 Implant Types for Breast Augmentation: Which is Best for Me?
Silicone Gel Breast Implants
Dr. Gandolfi provides patients with a full spectrum of implant options, including silicone gel implants. Many women say that silicone implants are softer to the touch and feel more like natural breasts, and they are also more pliable and offer a more natural appearance. Since silicone implants are filled in advance, larger incisions are needed to get these implants into place. Dr. Gandolfi will talk with you about techniques to conceal and minimize your scarring.
Saline Breast Implants
Saline implants are filled with a sterile saline water solution. They can be a bit firmer in feel and give a fuller appearance. Because they can be inserted and then filled, the incisions may be smaller. And, if saline breasts ever rupture, the saline solution is safely absorbed into the body.
Breast Augmentation with Fat Transfer
Some women simply do not wish to have artificial implants, in which case a fat transfer may be best. With this method, excess fat is harvested from elsewhere on the body, then sculpted into the shape of healthy, natural-looking breasts. Fat transfers do not allow for quite as much added volume, but they do provide the most natural look and feel.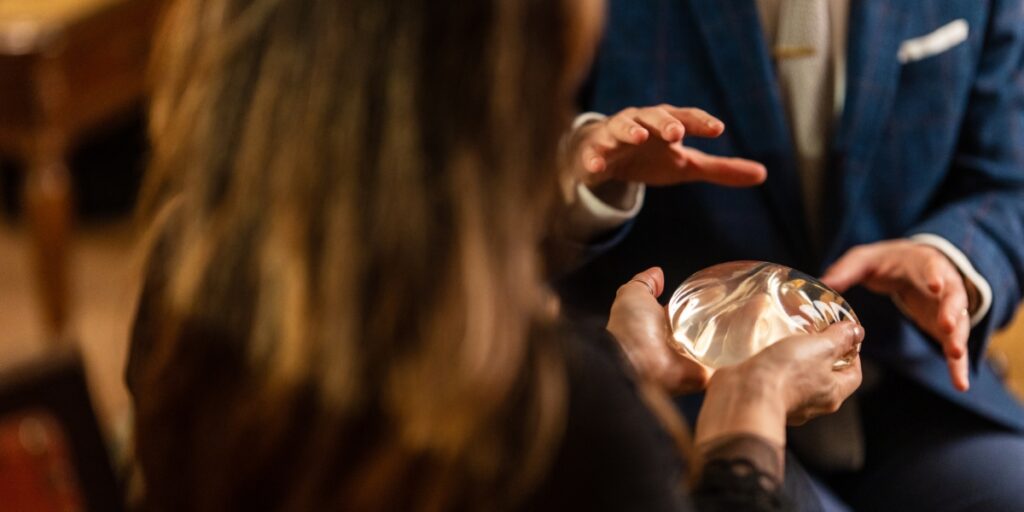 ---
Taking the First Steps
The first step is scheduling a consultation with Dr. Gandolfi to review your breast augmentation options. During this appointment, you will have a chance to sit down with him to discuss your aesthetic goals and medical history. Dr. Gandolfi will also perform a physical examination, review medical images, and show you different implant options. This consultation is the perfect time to learn more about the process and ask any questions you may have about the outcomes.
---
MEET DR. GANDOLFI
Double Board-Certified Plastic Surgeon
Dr. Brad Gandolfi is a double board-certified plastic and reconstructive surgeon with offices in New York City and Englewood, NJ. He specializes in cosmetic surgery and is a member of The Aesthetic Society, a by-invitation-only society for doctors with experience and excellence in cosmetic surgery. He obtained his plastic surgery degree at Duke University Medical Center and spent additional training in facial surgery at UCLA Medical Center. Dr. Gandolfi is board certified by the American Board of Plastic Surgery and the American Board of Surgery.
---
The Breast Augmentation Procedure
Before surgery, you will arrive at our surgery center and be welcomed by our friendly team. They will prepare you for your operations and place you under full anesthesia for your comfort. Dr. Gandolfi will make an incision in a location chosen to minimize scarring for your unique case. He will then carefully move the implants into position to ensure beautiful and natural-looking results. For fat transfers, the process will also involve fat and tissue being removed, often via liposuction, from an area such as the buttocks, abdomen, or thighs. Most breast augmentation surgeries take between one and two hours.
Dr. Gandolfi utilizes a no touch, rapid recovery technique to minimize infections and get you back to your life as fast as possible.
Recovery and Aftercare
After surgery, you will receive all the guidelines you need in regard to aftercare, recovery, and cleaning of your incisions. It is important to follow these guidelines in order to minimize the visibility of your scarring and promote optimal healing.
You will need to wear sports bras in the immediate healing phase. Often, the implants will start in a high position and will take a few months to "drop" to their final position. In these instances, a breast band may be recommended (most women do not need this).
As for pain, Dr. Gandolfi will provide you with a list of over-the-counter medications and will prescribe you medications to help with the pressure and discomfort after surgery. The combination of medications minimizes discomfort. For those that want to feel as little discomfort as possible, long-acting pain medication can be injected during the procedure that will numb the area for 3 days- ask us about it (called Exparel®)!
Dr. Gandolfi's techniques are all designed to minimize discomfort and expedite recovery. We encourage patients to return to their normal routine almost immediately after breast augmentation. In fact, many patients feel good enough to go out to eat on the same day as the surgery!
Other Considerations
Are There Any Risks Involved?
There is always some level of risk associated with surgery. However, you can minimize that risk by choosing a well-trained and credentialed surgeon, such as Dr. Gandolfi.
How Long Do the Results Last?
While breast augmentation does not necessarily last forever, most patients enjoy their results for at least a decade, and in some cases, for more than 20 years. Dr. Gandolfi will discuss the life of your implants during your consultation.
Is it Really Worth It?
Ultimately, only you can decide whether breast augmentation is worth it. Keep in mind that almost all of Dr. Gandolfi's patients are extremely happy with their results, and glad they went ahead with their breast surgery.
---
You're in Good Hands with Dr. Gandolfi
Dr. Brad Gandolfi of NYC is a highly trained, double board-certified plastic surgeon with a reputation for emphasizing patient safety and wellbeing. He combines artistic skills with advanced surgical techniques to deliver beautiful, natural-looking results for each of his patients. To schedule a consultation for breast augmentation with Dr. Gandolfi, contact our practice at (212) 287-7211.