Pregnancy, childbirth, breastfeeding, and motherhood can all be intensely rewarding experiences. They can also take a toll on your body, often prompting unwanted and seemingly irreversible changes to your physical appearance. Among many moms, there is a simple desire to undo those changes, and regain a pre-pregnancy physique.
One of the best ways of accomplishing this goal is through a mommy makeover. A mommy makeover is not a surgery so much as it is a set of surgeries that are performed at the same time. As such, it provides you with the opportunity to address multiple parts of your body with just a single surgical session.
Dr. Gandolfi is pleased to offer mommy makeover procedures in New York City, and help you achieve the body of your dreams.
---
The Benefits of a Mommy Makeover
There are a number of benefits that you can anticipate from having a mommy makeover, as opposed to having multiple procedures done at separate times.
With a mommy makeover, you only have to undergo anesthesia once.
Having multiple procedures done at once can help control the surgical cost.
One surgery means only one recovery time, which means less time away from your normal activities.
By having all of your procedures done at the same time, you only need to arrange childcare once.
A mommy makeover allows you to work with one surgeon who can ensure seamless, natural-looking results.
---
I've worked with many doctors in the past and I knew that Dr. Gandolfi was going to be the doctor that was gonna take care of my problems. His bedside manner is outstanding. The comfort he gives you, everything's in detail.

VIVIAN
---
Am I a Good Candidate for a Mommy Makeover?
The best way to determine your candidacy for a safe and successful mommy makeover procedure is by scheduling a consultation with Dr. Gandolfi.
A Mommy Makeover is Great For
The best candidates for a mommy makeover are:
Women who are in good physical health overall.
Women who do not plan on having any more children.
Women who are not smokers, or are willing to stop smoking for at least six weeks.
Women who are at a stable body weight with a healthy lifestyle.
Can I Get a Mommy Makeover if I Have Not Had Children?
Of Course! The term mommy makeover is used to describe various surgeries that are performed during the same session, in order to achieve holistic, comprehensive goals. While the procedure is popular among mothers, you do not need to be a mom to have these procedures. A mommy makeover may be appropriate for any woman who wants an elegant solution for whole-body transformation.
Should I Wait Until I Am Done Having Children?
Probably. Pregnancy, childbirth, and breastfeeding can potentially undo some of the effects of your mommy makeover. The most common things addressed are the result of stretching of the abdominal wall due to pregnancy and deflation of the breasts due to breastfeeding. Waiting until you are done having children can help you extend your results for as long as possible.
---
Real Patients, Real Results Achieving Natural Beauty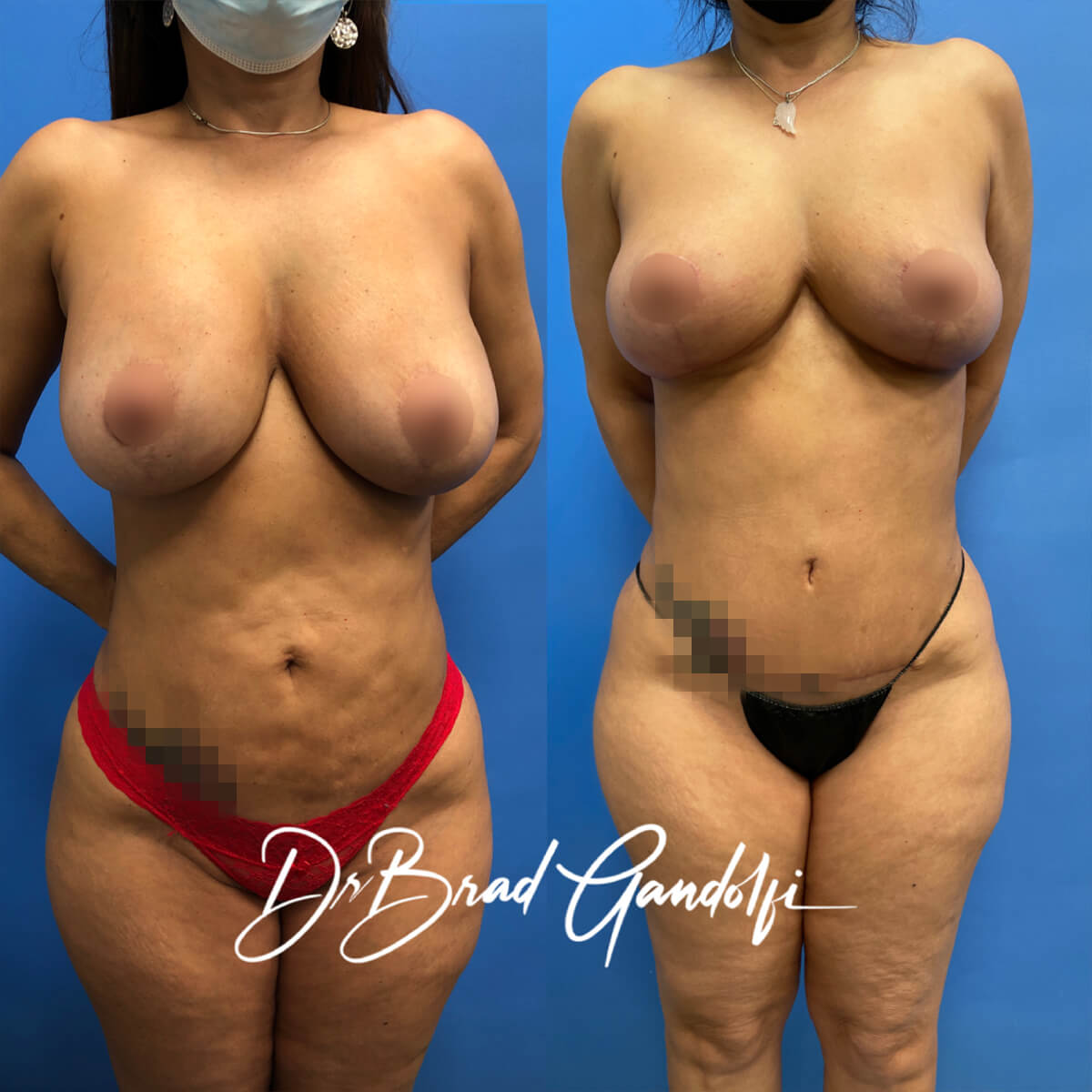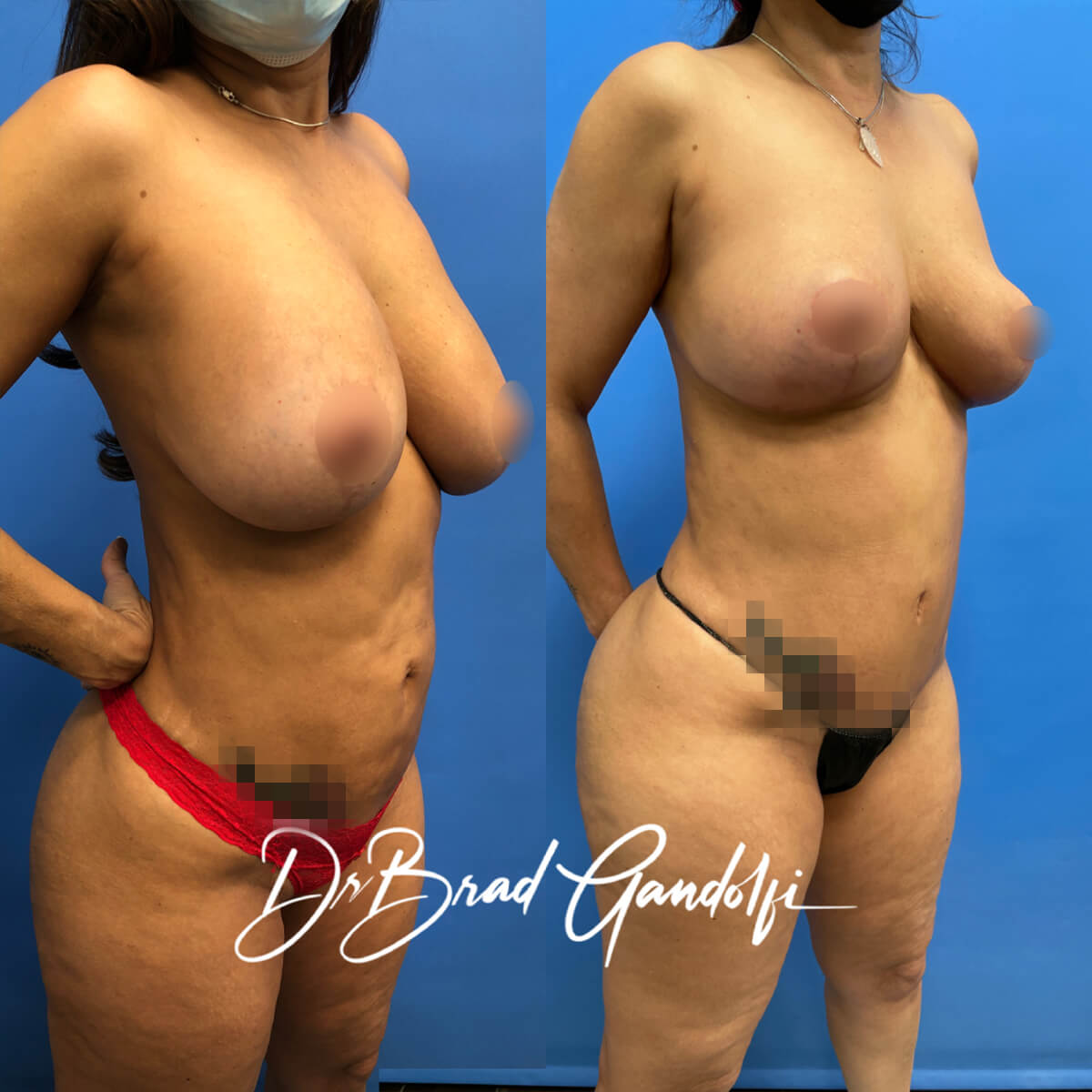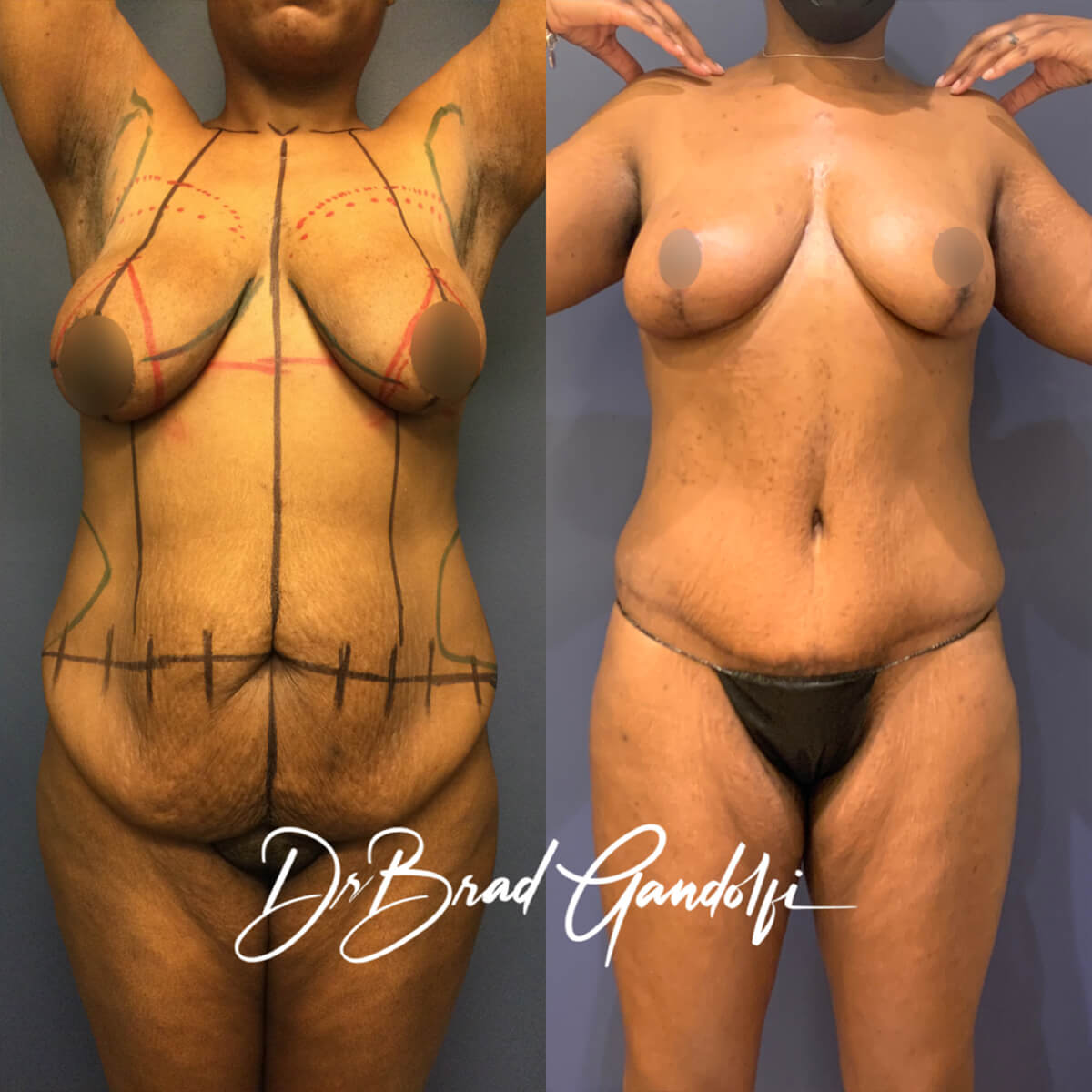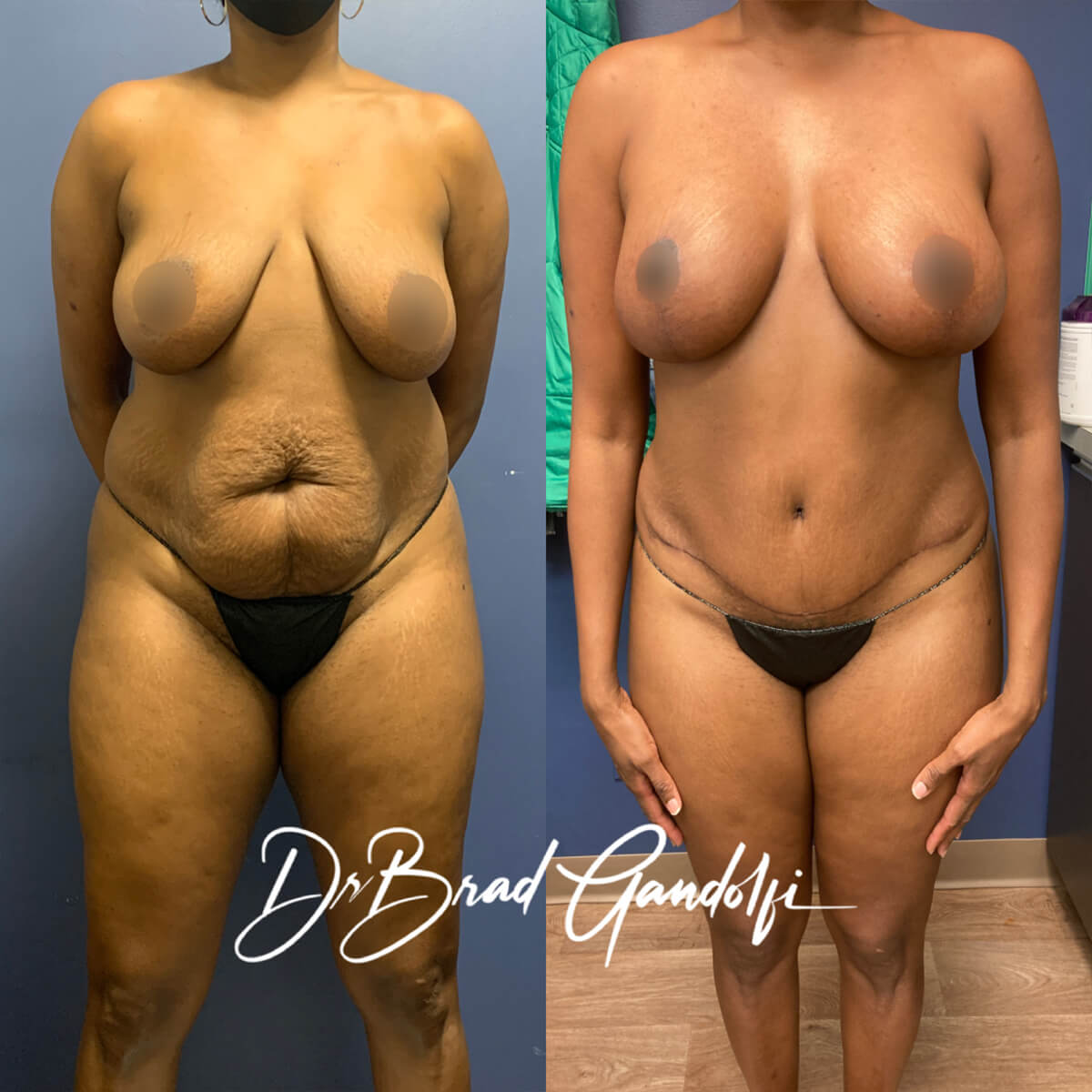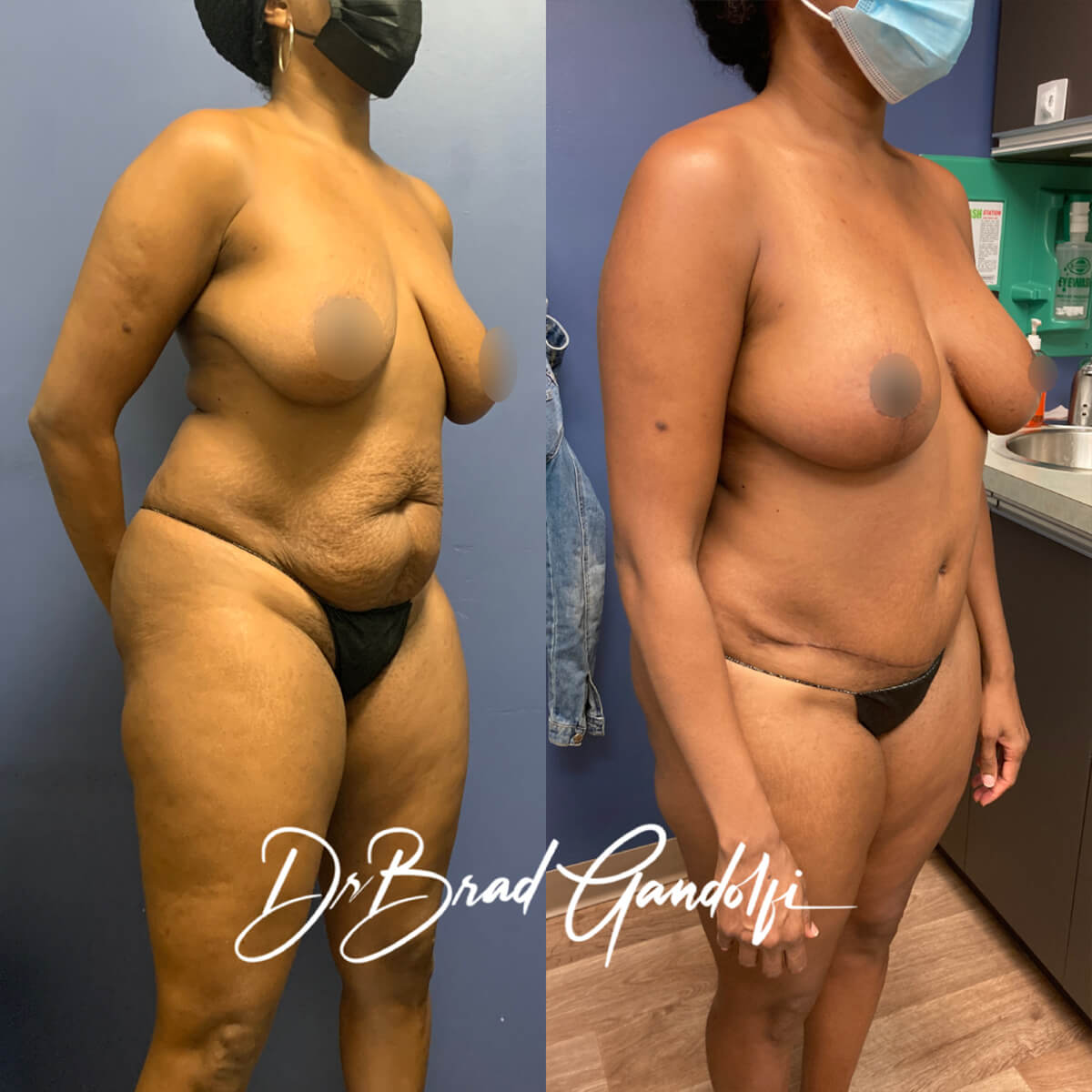 ---
What Procedures are Involved in a Mommy Makeover?
Every mom is different, and as such, every mommy makeover is different. During your initial consultation, Dr. Gandolfi will ask you about some of the goals you are hoping to achieve through plastic surgery. From there, he will talk with you about the specific procedures that can help you achieve those goals.
Depending on what you are looking to accomplish, your mommy makeover can be customized to include any combination of the following procedures.
Breast Augmentation
Childbirth and breastfeeding can often lead to a significant loss of breast volume. If you want to increase the size of your breasts, breast augmentation can be performed with breast implants, fat transfer, or a combination of the two. Dr. Gandolfi strives to create natural-looking results that are proportional to the rest of your figure. Learn more about our breast augmentation process.
Breast Lift
One of the most common physical effects of pregnancy and breastfeeding is the sagging of the breasts. If you are experiencing droopy breast tissue or a nipple that has turned downward, you may be a good candidate for a breast lift. This procedure will restore your breasts to a more youthful shape, and may be performed with or without augmentation. Learn more about our breast lift process.
Breast Reduction
After pregnancy and childbirth, it is normal to have some areas of stubborn fat that you just cannot seem to get rid of with diet and exercise. For some moms, this unwanted fat may be concentrated in the breast area. If your goal is to reduce the volume of your breasts to something more natural-looking and proportional, consider breast reduction surgery. Learn more about how Dr. Gandolfi handles breast reduction.
Tummy Tuck
Another area where moms tend to have stubborn fat and excess skin is in the abdomen. A tummy tuck can be a good option for achieving a smooth, natural-looking abdominal area. Dr. Gandolfi performs drainless tummy tucks with liposuction to provide even better results with more comfort. Note that this procedure can also rebuild muscle walls that were damaged in childbirth.
Rectus Diastasis Repair and/or Umbilical Hernia Repair
Often, the growth of the uterus during pregnancy expands the abdominal wall and displaces the abdominal wall muscles. It is also common for pregnancy to cause hernias to form for the same reason. Unfortunately, no amount of diet and exercise will fix this. Dr. Gandolfi uses a variety of unique techniques to solve these problems through minimal incisions and discomfort.
Liposuction
Liposuction is a good option for women who wish to eliminate deposits of unwanted fat and tissue from anywhere on their body, including the abdomen, thighs, or buttocks. Dr. Gandolfi uses a combination of advanced liposuction technologies to produce results that are thorough and natural-looking. Learn more about Dr. Gandolfi's approach to liposuction.
Fat Transfer
Through the fat transfer process, Dr. Gandolfi can harvest excess tissue from one part of the body and use it to reshape another part. For example, unwanted fat can be liposuctioned from the abdomen and then used to reconstruct breasts or add volume to the buttocks.
Body Contouring
Body contouring may refer to any procedure that is used to reduce unwanted fat or loose skin, leading to a more streamlined physical appearance. This is often something that women desire as they seek a return to their pre-pregnancy body and physique. Options include butt lift, arm lift, thigh lift, and more.
---
The Procedure Process Explained
Because mommy makeovers can be so different from one patient to the next, the process itself is variable. For most patients, however, getting a mommy makeover will follow this basic trajectory.
---
Experienced at Mommy Makeovers in NYC
It is very common for moms to wish they could look a little bit more like they used to, pre-pregnancy and pre-childbirth. A mommy makeover may be the best way for you to achieve that goal. To learn more about having a mommy makeover in NYC, schedule a consultation with our double board-certified surgeon Dr. Brad Gandolfi at (212) 287-7211.