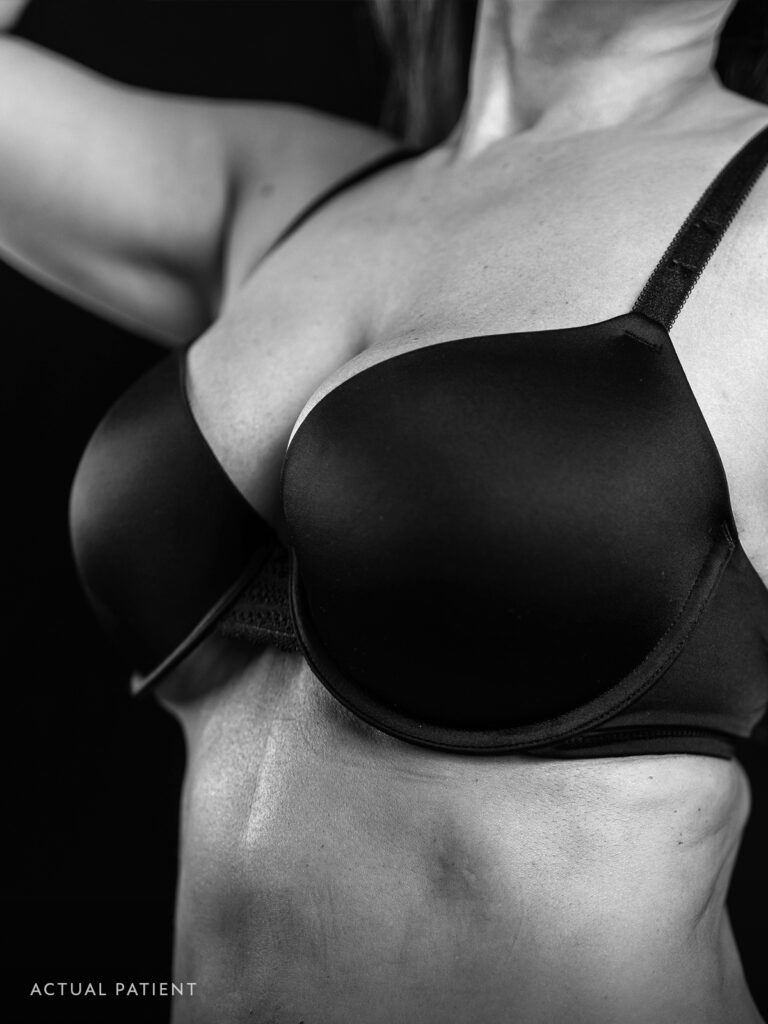 When you have breast augmentation performed, you hope to be fully satisfied with the final results. What happens when the results are not in line with your expectations, or when your aesthetic preferences change over time? Through breast revision, you can enhance the results of a previous breast procedure, reshaping the breast implants, decreasing or increasing size, and potentially having a breast lift performed. Dr. Brad Gandolfi is a double board-certified plastic surgeon with considerable experience performing breast revisions for patients in NYC.
---
The Benefits of Getting a Breast Revision
Some of the most common reasons to pursue a breast revision include:
To reverse the natural signs of aging that occur over time
To remove capsules that have become painful or create asymmetry of the breasts
To remove implants and replace them with natural volume (fat transfers)
To enhance or improve the results of a previous breast procedure
To reshape the breast implant pocket, repositioning the implant on the chest
To increase or decrease the size of your implants
To select a different type of implant to provide a different shape or texture
---
Am I a Good Candidate for Breast Revision?
If you have had breast augmentation in the past but are no longer pleased with the results, or you have developed concerns about your implants, then you may be a good candidate for breast revision.
A Breast Revision is Great For:
Patients who have previously had breast augmentation
Those who are in good health overall
Those who have realistic expectations
Patients seeking concurrent breast procedures
---
Types of Breast Revision
Breast Augmentation for Micromastia or Hypomastia
Micromastia, also known as hypomastia, is a medical condition that causes the breasts to remain underdeveloped. In some cases, it can affect the breasts differently, creating asymmetry. Implants may be used to produce a more harmonious and natural appearance.
Symmastia Repair
Symmastia is a medical condition that results in the confluence of the breasts. In other words, the breasts are closely connected with a type of webbing across the midline of the breasts. Breast revision may be performed to address this concern.
Capsulectomy Repair
Breast augmentation can sometimes result in the formation of a thick, hardened tissue around the implants. This condition is known as capsular contracture, and it can lead to discomfort. Addressing this problem usually means removing the implant as well as the capsule, then replacing the implant.
---
What Are the Differences Between Breast Revision and Breast Augmentation Surgery?
Breast augmentation is a term used to describe any surgical procedure that enhances the volume of the breasts. This is most commonly performed via implants but may also be performed with a fat transfer, or a combination of the two.
Breast revision is performed for patients who have already received breast implants, and either wish to change the appearance of those implants or remove the implants altogether. Breast revision may also be performed to address complications that arise from an initial breast augmentation surgery, such as capsular contracture.
---
WATCH VIVIAN'S STORY
I knew that Dr. Gandolfi was going to be the doctor that was gonna take care of my problems.
---
Taking the First Steps
If you are interested in breast revision, the first step is a consultation. Our team will begin with a phone call, collecting information about your medical history and your desire for a breast revision. This will be followed by a face-to-face consultation with Dr. Gandolfi, during which you can ask any questions about the treatment process, recovery, or expected results.
Before your surgery, we may also recommend that you have a baseline mammogram, confirming your eligibility for a safe and successful procedure. You will receive instruction on beginning or discontinuing any medications, and preparing your body for surgery and recovery.
---
The Breast Revision Process Explained
When you arrive for your breast revision, you will be warmly welcomed by our clinical care team, then walked back to the treatment area where anesthesia will be administered.
The procedure itself may take anywhere from one to four hours, depending on the complexity involved. Dr. Gandolfi will be careful about incision placement, striving to keep long-term scarring to a minimum. Depending on your aesthetic goals, your procedure may involve the removal of existing implants, the removal of scar tissue, the placement of new implants, and/or a breast lift, which involves repositioning breast tissue for a firmer appearance.
---
Recovery and Aftercare
Before you are discharged, you will receive full written instruction about recovery and aftercare. Most patients require a week to rest and heal at home, and a full six to eight weeks of abstention from exercise and strenuous physical exercise.
Some swelling and tenderness can be expected for the first few days, but these symptoms can be managed with cold compresses and over-the-counter remedies. We will also schedule a follow-up appointment, allowing Dr. Gandolfi to verify that you are healing appropriately.
---
Breast Revision Surgery Frequently Asked Questions
My Breasts Do Not Look Alike After an Augmentation. Can Breast Revision Correct Breast Asymmetry?
Breast revision can definitely be used to address asymmetry following a breast augmentation procedure. Some options include changing the breast implants, altering the position of the implants, or simply removing excess scar tissue.
Months After My Augmentation, My Breasts No Longer Look or Feel Natural. Why Did This Happen?
Following a breast augmentation, it can take multiple months for the implants to settle into their final position. Additionally, hardening scar tissue can cause the breasts to have a misshapen look. Breast revision can correct these problems, restoring you to a natural and beautiful appearance.
What Is Capsular Contracture? Can Breast Revision Resolve This Condition?
Breast implants always result in some scar tissue, but when the scar tissue is particularly hard, it is known as capsular contracture. A breast revision may be performed to remove this excess scar tissue, resolving the problem of capsular contracture.
Should My Breast Revision Include a Breast Lift?
Not all patients who get a breast revision need a breast lift. If you are dissatisfied with the shape of your breasts and desire the breast tissue to be repositioned for a more youthful look, having a breast lift may be the right approach.
Are There Any Risks Involved?
There is always risk associated with surgical procedures. The best way to minimize your level of risk is to choose a surgeon with skill, experience, and the proper credentials.
How Long Do the Results Last?
The results of your breast revision should last for many years. The best way to extend your results is to carefully adhere to aftercare instructions, and maintain an overall healthy lifestyle.
---
You're in Good Hands with Dr. Gandolfi
Breast revision can be the best way to enhance the results of a previous surgery, or correct issues that arise from a previous breast augmentation. Dr. Gandolfi has considerable experience promoting patient comfort and safety during breast revisions, all while seeking beautiful, natural results. Schedule a consultation in NYC by calling (212) 287-7211.